Last week I broke out a seminal game from my childhood:
Heroquest
(that still sees action at my own game table with its fantastic collection of miniatures); Taking on the role of Barbarian, Elf, Dwarf and Wizard (in this case Thog, Bat, Fat and Maggot respectively) four brave adventurers delve dungeons deep, killing monsters and stealing their stuff.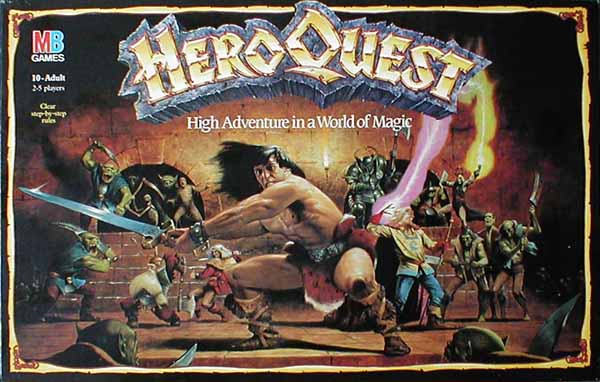 Still available 2nd hand online from a retroeasonable price to the collectordiculous this is still a great game for kids (if you can find a copy in good condition) and the perfect gateway drug for parents hoping to drag their kids kicking and screaming into the world of roleplaying games (and get their fix while keeping the kids entertained). Even my two from the jaded touch screen generation had a great time and begged for more!
I would say however that it's a little 'quaint' for the battle hardened gamer and if you're looking for a that sweet D&D taste without going the full nerdtard, I would highly recommend
Fantasy Flight Games:
Descent: Journeys in the Dark (Second Edition)
We recently played an entire campaign (a series of connected games) and wow, were we impressed.
I have never played such a finely balanced game. You fight hard for every every victory and whether hero or monster each victory is by the skin of your teeth... Like all FFG products it is the highest level of production with simple rules and clever mechanics, quick to set up and a night to play.
Brilliant
!